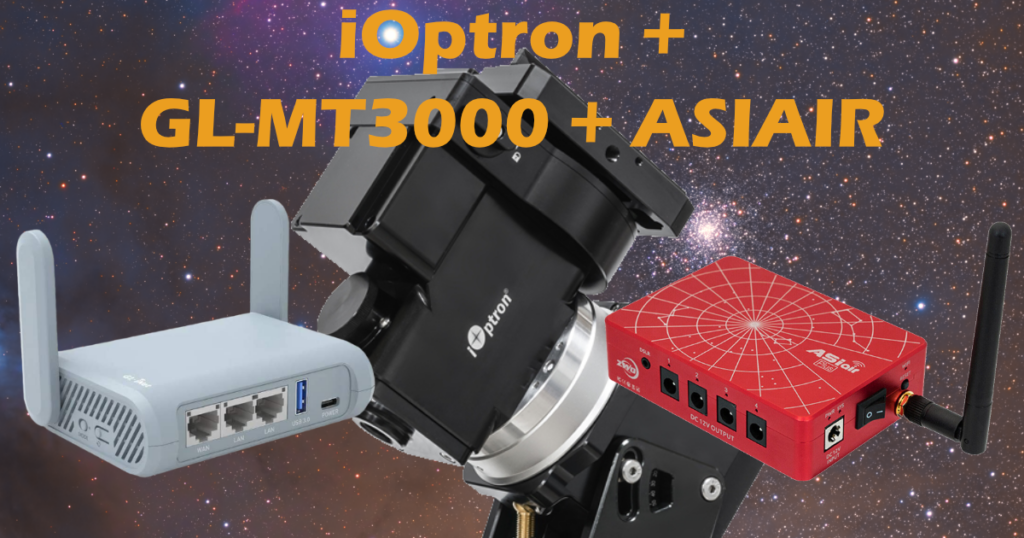 So more gear, this time we are upgrading the Wi-Fi for my whole setup so it's way more robust! As you all know the ASIAIR Wi-Fi it just OK, the original ASIAIR, Pro, Plus, Mini and Plus 256 all have decent Wi-Fi but it's nothing to write home about. It's enough to image but you can not get super far from the mount. In the past I have purchased other Wi-Fi extenders and they work really good but this time we are moving to the GL-MT3000 which is a beast of a Wi-Fi Router and is running OpenWRT.
So before we dive in to the video I wanted to explain why I purchased the Wi-Fi Router instead of just using just my old Wi-Fi Extender.
Connecting the HEM27 to the ASIAIR does not support using a USB cable so you need to turn on Station Mode on the ASIAIR which then breaks the Wi-Fi down from 5Ghz to 2.4Ghz to support station mode connection slowing down the Wi-Fi.

When using the Extender it bridges the ASIAIR so while the Extender does 5ghz the ASIAIR is still in 2.4Ghz mode due to station mode so pulling images can take a multiple seconds or more. With the MT3000 I am using a network cable to connect the ASIAIR so I will have the full 10/1000 network and 2402Mbps Wi-Fi 5ghz speed to pull files in a flash!

The MT3000 has a really long reach of 45 meters or 147 feet so I can be far away from the mount and still connect to it.

I didn't know this but the iOptron HEM27 offers Station Mode and AP mode (not in the instruction from iOptron) so this makes it super simple to connect the iOptron HEM27 to the MT3000 so I can replace the ASIAIR Plus to the ASIAIR Pro or anything else I want to and still only have one single network to connect to.
Parts Purchased from Amazon (direct links I don't do click through bait crap)
PlusRoc Waterproof 12V/24V to 5V Converter
Fancasee 6 ft Replacement 5.5mm x 2.5mm 90 Degree Right Angle DC Power Male Plug